Peter Silin, MSW, RSW
Brochure and Forms Download Page
Brochure
Click here to download
Counsellor Coach Brochure
in PDF format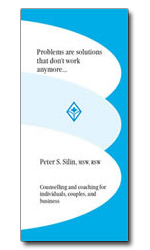 Forms
These forms are ones that I generally ask people to fill out in the office sometime during the counselling process.
For our first interview, I will ask you to fill out the Client Profile and the Confidentiality Form. If you like, you can download them, and then send them via email or fax , or bring them in for our first appointment. You can also come in about ten minutes early and fill them out before our appointment. They will be available from my receptionist.
It would also be helpful if you fill out the form on Goals . Sometimes people find that writing down their goals helps them develop or clarify they want from counselling. It can always be revised, and is a guide only.
All forms are in Adobe PDF format. If you do not have Adobe PDF reader, it is a free download at the link below.


= Click here to get Adobe Acrobat Reader <=
288 West 8th Ave,. Vancouver, Canada V5Y 1N5
= click here to view map <=
---